Does your kitchen need a new look or out dated? Does the price of a complete makeover give you sticker shock? If you can spend some time, then refinishing your cabinets could be just what your kitchen needs to get a whole new look.
Here is a step-by-step guide to transforming your cabinets. Depending on how fast or detailed you get, this process will take you at least 3 solid days (usually a little longer). One day to prepare everything, one day to paint and let them dry, and one day to put everything back together.
Step 1: Prepare
Remove all knobs and pulls from the cabinets.

Store them in a container or place you won't lose them.

Either label or number drawers and doors.

Label where they came from so you can place them back correctly. Using painters tape or color coded stickers are good options.

Remove cabinet doors, drawers, and hinges.

If you are reusing your hinges, store them in a container so you don't lose any screws or pieces. If you are buying new hinges, bring an old hinge so you can match up the existing holes when it comes screwing them back on the cabinets.
Remove items that may get in the way.

You don't want to accidentally get some paint on your dishes, so try to push everything back as far as possible or take it all out completely.

Cover the counter tops.

This will help catch any paint drippings from the upper cabinets. (Don't forget the stove!) Putting down a drop cloth along the floor is a good idea too.
You can use painters tape to line the areas where the cabinets meet the wall, floor and other areas as well to prevent painting on them.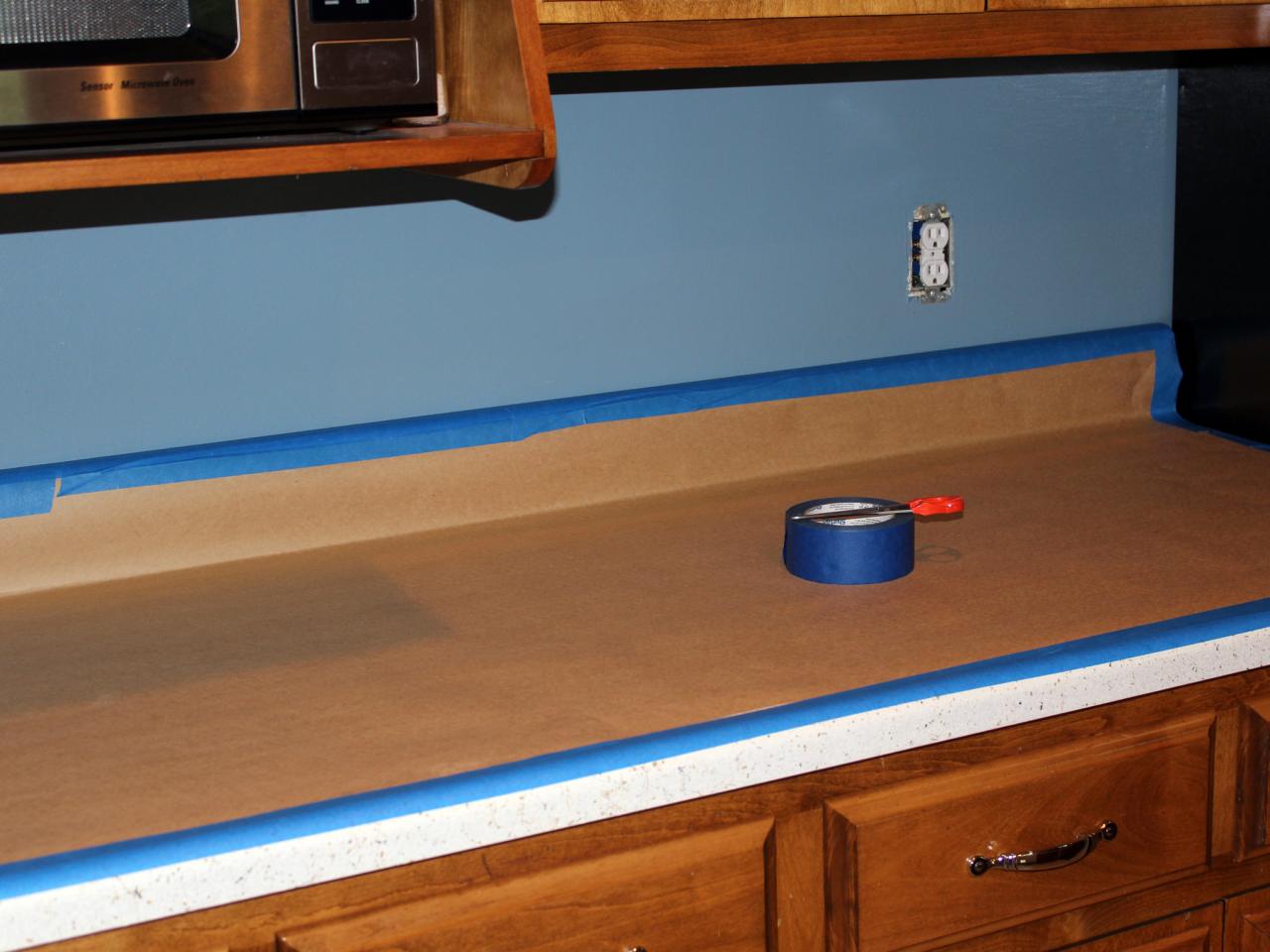 CLEAN YOUR CABINETS. 

This step is very important if you want your cabinets to come out smooth. Use a Trisodium Phosphate (TSP) or a TSP substitute. This will help remove heavy deposits of greasy grime, smoke, soot stains, and cleans surfaces in preparation of painting.
Don't forget to wear your gloves!
Step 2: Sand
Sand all the cabinets. 

Make sure to get in all the creases and edges. You just want to sand them down enough to get rid of any remaining gloss or shiny surfaces that the TSP did not remove. A 320 grit sand paper or block should do the trick.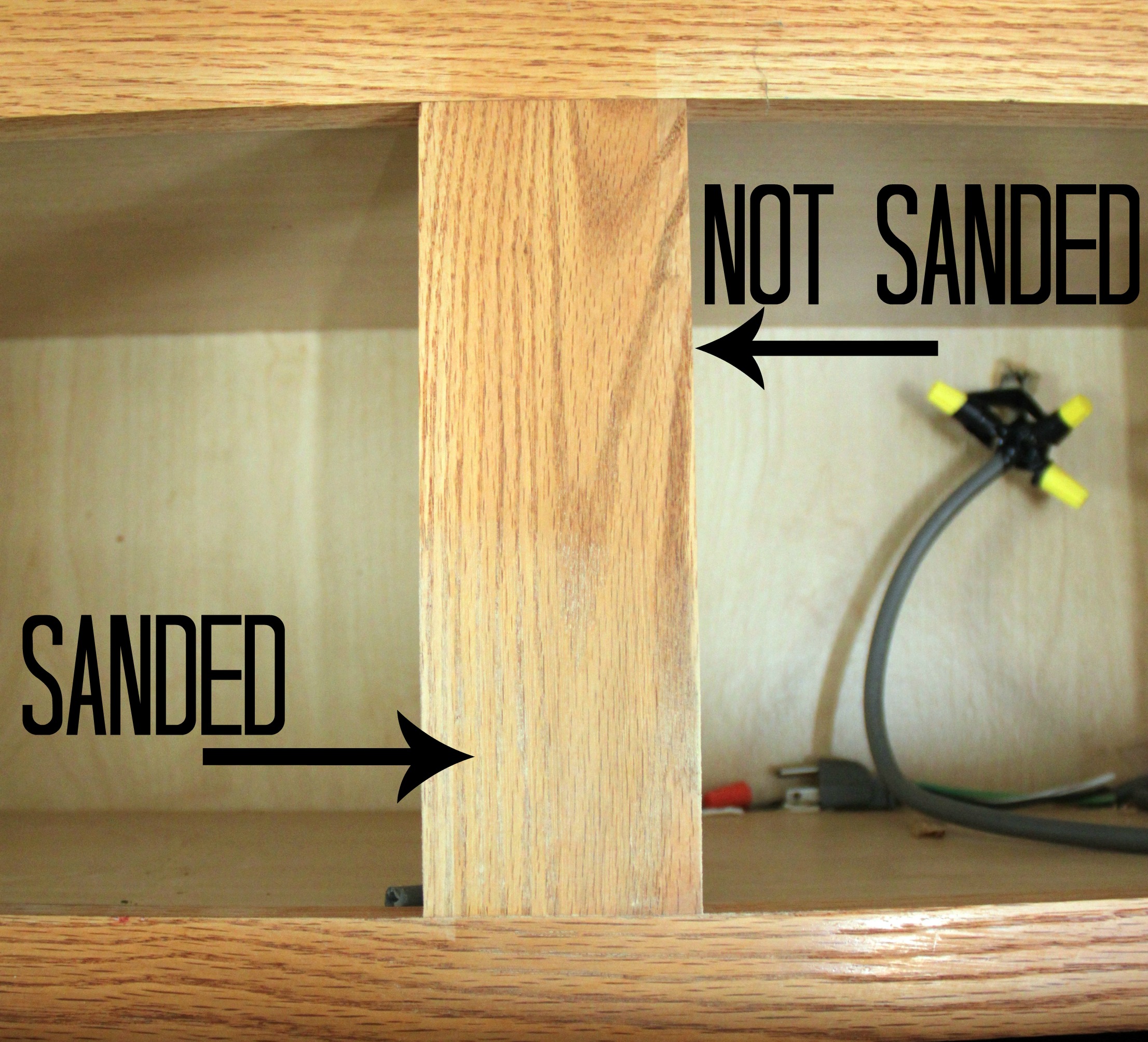 Sand the doors and drawers. 

Be sure to sand well where you knob and pull holes are because these areas get a lot of wear.

Use a shop vac to clean up dust. 

As you are sanding it will get very dusty, so keep your shop vac close to periodically vacuum up the dust, especially for the cabinets in the house.

Fix & tape exposed areas. 

Now that you've finished sanding, you want to make sure all edges of your range hood, walls, floor, backsplash, and stove have been protected (painters tape will do).
Step 3: Prime & Paint
Prime the boxes of your cabinets first. 

Using a 4″ roller preferable, and a stain blocker primer/sealer start with the box. Use a small brush to cut in on corners like you would when painting a wall.

Prime doors and drawers.

Use the roller to apply the primer to the fronts of the doors and drawers. If you want to paint the back sides you can, but I don't recommend painting the drawer sides.
Don't go too heavy on the primer; you don't want to have drips. You should only need one coat of primer unless your cabinets were very dark to begin. (If you are priming back and front of doors, allow at least 2 hours for dry time before painting other side).
Allow primer to dry for at least 2 hours, if not more, before starting to paint.

Paint the boxes of your cabinets. 

Also use a 4″ roller, and an enamel-latex based paint to make for easier clean up when the cabinets are finished. Use the same method you did for priming.
Use the brush to cut it in, and the roller all over.

Paint the drawers and doors. 

Also use the same method as you did for priming the doors and drawers. Be careful not to create any drips! (If you are painting the back sides of the doors, allow the front to dry over night fully before flipping and painting the back side)

Allow all the paint to dry over a full night. 
Time for a second coat of paint. 

Start with the giving the boxes a second coat of paint, and the drawers. (Put a second coat on door fronts, or if you primed the back, now is the time to paint the back side)
You can start to remove the tape and cloth protecting the edges and counter tops while the paint is still wet (keeps your lines clean).

Let the second coat of paint dry. 

Once you've completed the second coat, let it dry over night again. (If you painted the backs of your doors, after a few hours, apply a second coat to the fronts)
Step 4: Completion
Replace the hinges.

Once the paint has fully dried, it is time to replace the hinges or put the new ones on.

Replace the knobs and pulls.

Next it's time to put back the knobs and pulls. Don't screw anything down too tight or it could start to split the cabinets.

Felt bumpers.

If you don't have slow close hinges, adding some felt bumpers will help protect your newly finished cabinets.

Enjoy your new looking kitchen!